Catholic Distance University
Far from being just a communication of factual data – "informative'"– the loving truth of the Gospel is creative and life-changing – "performative" (cf. Spe Salvi, 2).
Many adults desire to study the Faith so they can actively share their knowledge with others and evangelize. Catholic adults, by nature of their Baptism, are called to continuously reflect on the Church's 2000-year heritage to integrate the Faith into contemporary society. In response, CDU offers courses and noncredit certificates designed to provide a systematic approach to the study of a number of subjects.
Who can benefit from these courses?

Lay persons seeking to live out their faith
Catechists
Directors of Religious Education
RCIA teachers
Clergy and Religious
Teachers
Parish and diocesan staff
Parents

Become a lifelong learner equipped and inspired to change the world!
"Let your chief study be to acquaint yourself with God because there is nothing greater than God, and because it is the only knowledge which can fill the heart with a peace and joy, which nothing can disturb." —St. Elizabeth Ann Seton, CDU's Patron Saint
---
CDU's non-credit Continuing Education courses and certificates prepare you to share your knowledge with others and integrate your faith in everyday life. All courses and seminars are offered online so you can study where and when you choose from the convenience of a digital device or laptop. The only prerequisite is a desire to grow in your knowledge of the Faith.
CDU offers something for all. The Continuing Education non-credit courses are rewarding opportunities to grow in your knowledge and love of God. Courses are easily completed within two months, and upon completion Continuing Education Units (CEUs) are awarded. Courses taken individually may be used to obtain non-credit certificates.

On-Demand Independent Study Courses
Independent study courses equip you to become a lifelong learner prepared to change the world. Take a single course or all of the courses in a subject area: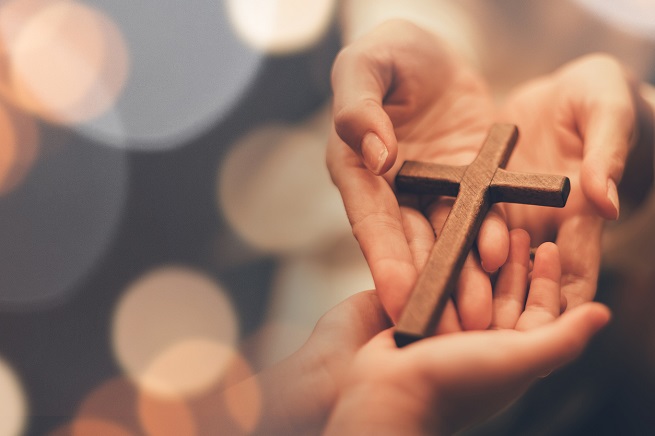 Sacred Scripture
Catechism of the Catholic Church
Vatican Council II
Catechesis
Spirituality
Morality and Ethics
Sacraments and the Mass
Mother Mary







Non-Credit Continuing Education Certificates (English)
Certificados de Enseñanza Continua sin Crédito (Español)
Three-Week Seminars
Learn more about a fascinating topic of your choice by taking a three-week online seminar. Review a weekly lecture and participate in an online discussion at your convenience.
Seminar Schedule:
Proclaiming the Reality of God: Compelling Evidence of God's Existence (next offered in Spring 2024)
Making the Case for Christ (next offered in Spring 2024)
Why Would a Loving God Allow Evil, Pain, and Suffering? (January 16–February 6, 2023)
How Are We Saved? The Catholic View of Salvation (June 12–July 3, 2023)
Why Do We Need the Church? (August 14–September 4, 2023)
The Art of Evangelization Through Apologetics (October 2, 2023-October 23, 2023)
---
Student Testimonials
"I had a very positive experience with this course and CDU! Just knowing how much I have learned from this course I can see how I look at things differently because of what I know now."
Catarina Hernandez

"I live far away from the school that I teach in and as much as I'd like to go to after school workshops, I find that after a whole day of teaching, all I want to do is get home. It is wonderful to be able to take courses this way. I am SO thankful for CDU."
Joan Forgione

"I am loving this course very much. The CDU independent study courses are a perfect fit! "
Kay Vovo

"I find that the classes are challenging not only in the learning aspect but in my self-growth and spiritual life. I just keep looking forward to what else I am going to learn. It's like every page I read takes me to another level. God is so good to us!"
Anna Martinez

"I love taking these online courses for the knowledge I receive in all aspects of my faith. The ease of working at my own pace is also excellent. I recommend them to everyone interested in the Catholic faith."
Robert McCarthy

---
Goals
Students who complete CDU's independent study noncredit courses and seminars should be able to do one or more of the following:
Identify the essential and fundamental content of Catholic doctrine, sacraments, and prayer, focusing on the Catechism of the Catholic Church.
Summarize essential scriptural concepts and themes to assist in reading and praying the Bible.
Apply the foundations of Catholic morality particularly as current literature, media, and contemporary issues challenge them.
Describe the history of the Catholic Church in America and its significance for defending religious freedom today.
Use catechetical principles and methods for faithful catechesis.
Integrate a basic understanding of the proper relationship of prayer, doctrinal truths, and current issues with living as a disciple of Christ.
Appreciate and apply spiritual principles and practices that have been approved by the Church.
Refund Policy
Satisfaction and Refund Policy for Non-Credit Courses

CDU will issue a full refund, minus the cost of any completed coursework, to any students who cancel their continuing education registrations within 72 hours of receiving access to their program, course, or seminar. After that point, CDU will not issue refunds. Students receive automatic access to independent study courses at the time of registration and payment. Students receive access to seminars on the first day of the seminar. To obtain a refund for a dropped course, the student must email the Continuing Education Registrar (continuingeducation@cdu.edu) within three days of receiving access to the course. Refunds will be processed within 30 days of request.
Group Plans
Discounted pricing is available to dioceses, parishes, schools, and organizations. Let CDU meet your group's faith formation needs through quality online courses! For more information, contact Megan Davis at continuingeducation@cdu.edu (1-888-254-4CDU, ext. 731).
About CDU
CDU was founded in 1983 as the first catechetical institute in the United States approved by the Vatican to award the Catechetical Diploma by correspondence. Today, CDU is a fully accredited university that offers both continuing education programs and degree and certificate programs completely online. Study where and when you choose from the convenience of a smartphone, digital device, or laptop! CDU is accredited by the Higher Learning Commission and the Association of Theological Schools. To learn more about our degree and certificate programs, visit cdu.edu or contact admissions@cdu.edu.

Are you a catechist, director of religious education, or youth minister? CDU discounts tuition for those actively serving in Church ministry. Learn more about CDU's degree and certificate programs today!
---